ANALISIS EFEKTITAS KEBIJAKAN PUBLIK DALAM UPAYA PERBERDAYAAN MASYARAKAT, DI KECAMATAN KINTAMANI, KABUPATEN BANGLI.
I Wayan Sedia

Fakultas Ilmu Sosial dan Ilmu Politik Universitas Mahendradatta Denpasar
Keywords:
Policy, Local Wisdom, Empowerment
Abstract
This study aims to determine the main factors that hinder community empowerment and the efforts made by local governments and the importance of applying local wisdom such as the values ​​contained in Tat Twam Asi, in reducing poverty in Kintamani. This research used interview and observation method, then the data found were analyzed and presented descriptively. From the results of the study, it was found that Bangli local government policies, culture and local wisdom greatly influenced efforts to empower and alleviate poverty in Kintamani. Regional policies that are inappropriate and conflict with local needs and traditions are the main factors that hinder efforts to reduce poverty in Kintamani. Likewise, the traditions of society are difficult to change following the developments and dynamics of the times
References
Bappeda Kabupaten Bangli. 2011. 'Peta Kemiskinan Masyarakat Kabupaten Bangli". Bappeda Kabupaten Bangli.

Duija, I Nengah . 2006. " Tradisi Lisan Dalam Konteks Masa Kini; Karakteristik Sosio Koltur di Balik Mitos I Ratu Ayu Mas Membah" Makalah Denpasar; Program Pasca Sarjana IHDN.

Dinas Pariwisata Propinsi Bali, 2015. 'Data Kunjungan Wisatawan ke Pulau Bali". Denpasar

Erawan, Wayan. 2010. " Menakar Kesulitan Ekonomi dan Keterikatan Budaya Masyarakat Pegunungan Gunung Batur, Kintamani, Bangli.". Laporan Penelitian Denpasar. Lembaga penelitian UNUD.

Lasmawan, Wayan. 2009. Program Pengentasan Masyarakat Miskin dan Penguatan Kelembagaan Lokal di Kabupaten Bangli-Bali. Laporan Sibermas, Singaraja; Lembaga Pengabdian Masyarakat Singaraja
.
Lasmawan, Wayan. 2009. Studi Analisis Faktor-Faktor Penyebab Kemiskinan Pada Masyarakat Pedesaan. Laporan Penelitian. Bappeda Kabupaten Bangli.

Pemerintah Propinsi Bali." Peraturan Pemerintah Propinsi Bali Nomor 16 Tahun 2009, Tentang Rencana Tata Ruang Wilayah Propinsi Bali Tahun 2009-2029"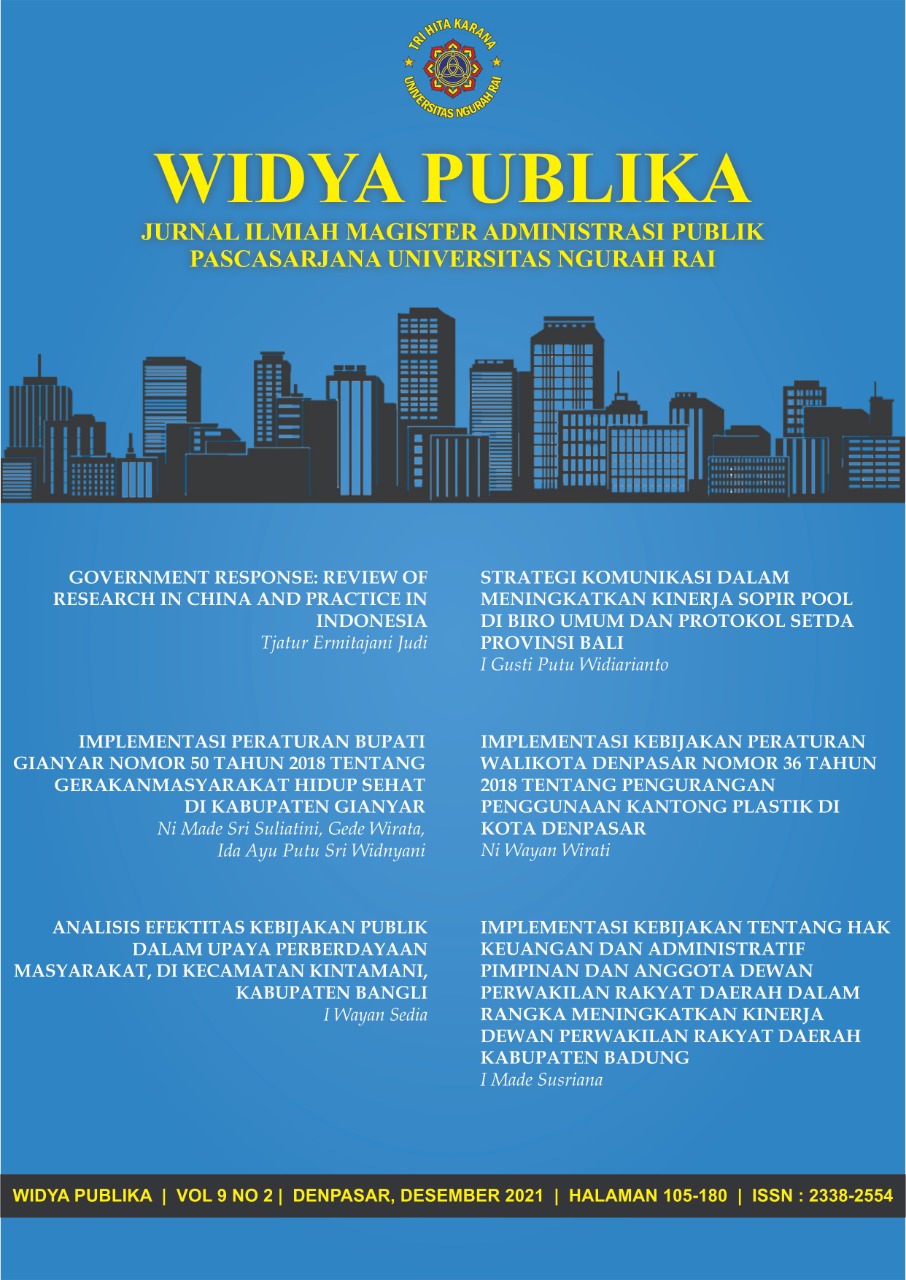 Copyright (c) 2021 I Wayan Sedia
This work is licensed under a Creative Commons Attribution-NonCommercial 4.0 International License.
Authors whose manuscript is published will approve the following provisions:
The right to publication of all journal material published on the WIDYA PUBLIKA journal website is held by the editorial board with the author's knowledge (moral rights remain the property of the author).

The formal legal provisions for access to digital articles of this electronic journal are subject to the terms of the Creative Commons Attribution-ShareAlike (CC BY-SA) license, which means Jurnal of WIDYA PUBLIKA reserves the right to store, modify the format, administer in the database, maintain and publish articles without requesting permission from the Author as long as it keeps the Author's name as the owner of Copyright.

Printed and electronically published manuscripts are open access for educational, research, and library purposes. In addition to these objectives, the editorial board shall not be liable for violations of copyright law.
Abstract viewed = 107 times ANALISIS EFEKTITAS KEBIJAKAN PUBLIK DALAM UPAYA PERBERDAYAAN MASYARAKAT, DI KECAMATAN KINTAMANI, KABUPATEN BANGLI. downloaded = 92 times