IMPLEMENTING ACI KEBURAN AS A FORM OF CULTURAL ATTRACTION IN STRENGTHENING THE LOCAL ECONOMY IN THE TIME OF COVID-19 BASED ON REGIONAL REGULATION OF THE PROVINCIAL GOVERNMENT OF BALI YEAR 2019 IN KELUSA VILLAGE
IMPLEMENTING ACI KEBURAN AS A FORM OF CULTURAL ATTRACTION IN STRENGTHENING THE LOCAL ECONOMY IN THE TIME OF COVID-19 BASED ON REGIONAL REGULATION OF THE PROVINCIAL GOVERNMENT OF BALI YEAR 2019 IN KELUSA VILLAGE
I Dewa Ayu Putri Wirantari
Keywords:
Keywords :Aci Keburan, Strengthening the Local Economy, Local Regulation, Provincial Government of Bali
Abstract
Abstract
strengthening of the local economy by the Bali Provincial Government can be synergized through the Bali Provincial Regulation Number 1 of 2019 concerning the Implementation of Cultural Attractions. Where in this regional regulation is regulated regarding the implementation of cultural attractions which are expected to be able to protect culture and traditions but can strengthen the local economy, so that escape can strengthen the local economy in the province of Bali through the economic cycle contained in chicken grafting shows. It can be seen that the many components of the community involved in its implementation are able to gain economic benefits. Tracing the implementation of the escape through the Bali provincial regulation number 1 of 2019 as an effort to strengthen the local economy during the COVID-19 pandemic can be reviewed in Kelusa village, Payangan sub-district, Gianyar Regency. Which can be seen that the implementation of this burial tradition is still carried out in such a way during the covid-19 pandemic. The purpose of this study is to analyze and describe the strengthening of the local economy in the Implementation of Aci Keburan in Kelusa Village During the Covid-19 Period Based on the 2019 Bali Provincial Government Regulation. The research method uses descriptive qualitative research methods, qualitative descriptive research which is intended as a measurement of social phenomena. certain people who are able to develop concepts and collect facts but do not carry out hypotheses
References
DAFTAR PUSTAKA
Buku
Eisman.Jr.Fred.B.(1996). Sekala and Niskala, Essya on Religion, Ritual and Art.4 Aufflage.Berkeley, Calofornia.Periplus Edition
Artikel dalam jurnal atau majalah
Aryani, Evi wahyuni, Riana. (2018). Aci Keburan Tradition at Kelusa Village. https://simdos.unud.ac.id/54ai. Diakses pada 20 Jul 2021
Ekasaryah, Febby, Gita, (2017), Penguatan Ekonomi Lokal melalui Teknologi terhadap pelaku UMKM. Jurnal FISIP. https://e.journal.uns.ac.id/fdc/pdf. Diakses pada 22 November 2020.
Sumber Elektronik
Balipost, 2019. Tradisi Aci Keburan di Desa Kelusa tetap Berjalan di saat Pandemi covid-19. https://www.balipost.com/2019/tradisi-ditengahpandemi. Diakses pada 22 November 2020.
Tatkala, 2019. Tradisi Aci keburan resmi Diatur dalam Perda Pemprov Bali 2019. https://www.tatkala.com/tabuh.rah.masuk.perda. Diakses pada 23 November 2020.
Peraturan Perundang-undangan
Peraturan Daerah Pemerintah Provinsi Bali.Peraturan Daerah Pemerintah Provinsi Bali Nomor 1 Tahun 2019 Tentang Penyelenggaraan Atraksi Budaya.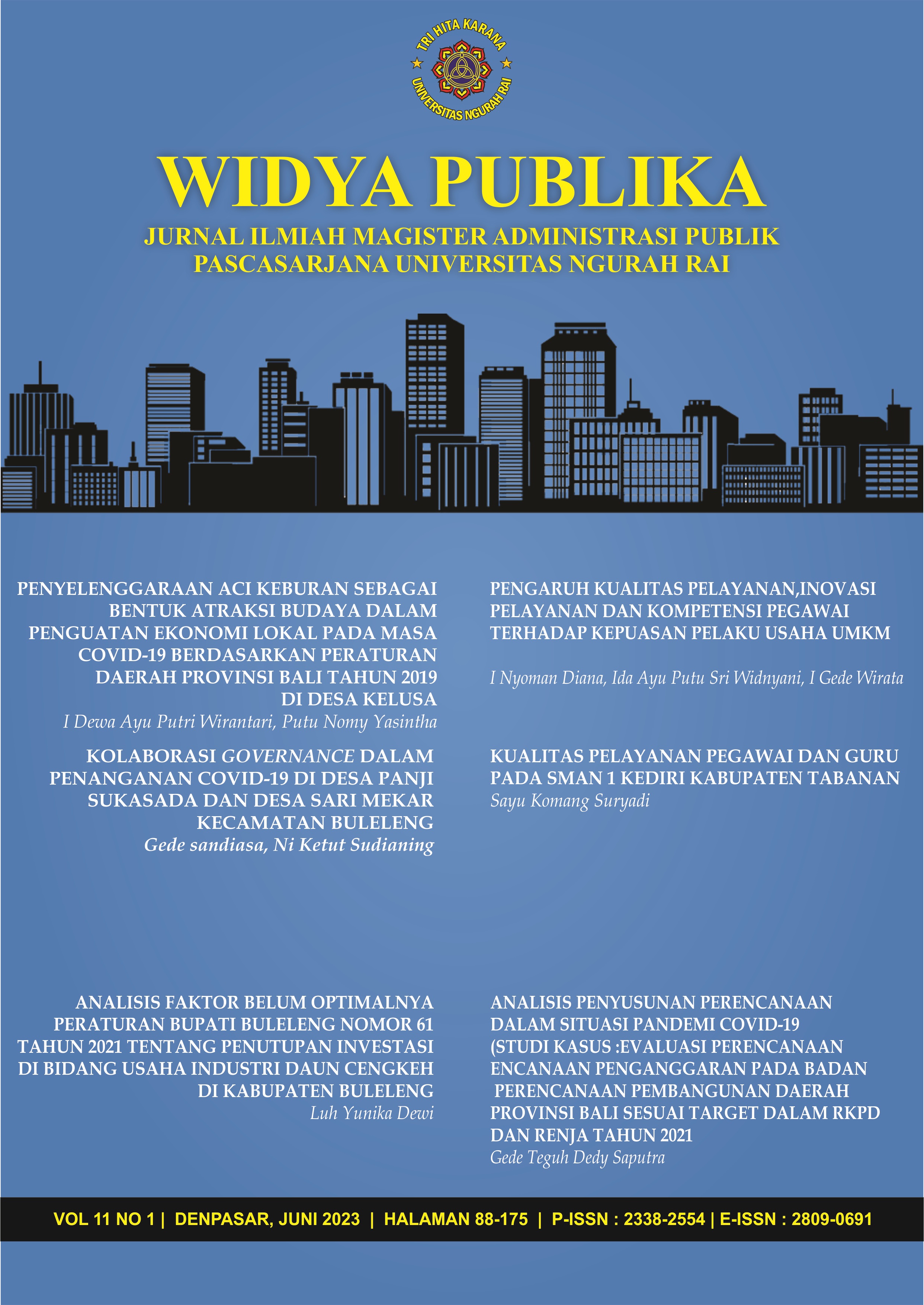 Copyright (c) 2023 I Dewa Ayu Putri Wirantari
This work is licensed under a Creative Commons Attribution-NonCommercial 4.0 International License.
Authors whose manuscript is published will approve the following provisions:
The right to publication of all journal material published on the WIDYA PUBLIKA journal website is held by the editorial board with the author's knowledge (moral rights remain the property of the author).

The formal legal provisions for access to digital articles of this electronic journal are subject to the terms of the Creative Commons Attribution-ShareAlike (CC BY-SA) license, which means Jurnal of WIDYA PUBLIKA reserves the right to store, modify the format, administer in the database, maintain and publish articles without requesting permission from the Author as long as it keeps the Author's name as the owner of Copyright.

Printed and electronically published manuscripts are open access for educational, research, and library purposes. In addition to these objectives, the editorial board shall not be liable for violations of copyright law.
Abstract viewed = 41 times PENYELENGGARAAN ACI KEBURAN SEBAGAI BENTUK ATRAKSI BUDAYA DALAM PENGUATAN EKONOMI LOKAL PADA MASA COVID-19 BERDASARKAN PERATURAN DAERAH PEMERINTAH PROVINSI BALI TAHUN 2019 DI DESA KELUSA downloaded = 41 times