PENGGUNAAN KAYU SEBAGAI SECONDARY SKIN PADA BANGUNAN, SALAH SATU UPAYA MEWUJUDKAN ARSITEKTUR HIJAU
Frysa Wiriantari

Program Studi Arsitektur Universitas Dwijendra
Keywords:
Wood, efficiency, concept, green architecture.
Abstract
The benefits of using wood as a building material have long been felt. In recent times wood has developed into an architectural and aesthetic material, including as the secondary skin building. The wood fiber structure and durability as well as the ability of wood to maintain thermal conditions in the building it houses are one of the factors that strengthen the choice of wood. This research aims to find out the concept of using wood to fulfill its function as a secondary skin building, what factors should be taken into account in strengthening its function and aesthetics and whether there are other materials that can be used along with the advantages and disadvantages of each material.
This research uses a qualitative descriptive approach which focuses on problems based on conditions in the field. The data in this research was obtained through observation, interviews with related parties and also literature studies on similar research.
The research results found that the use of wood as secondary building must fulfill the concept of function, namely as a filter for heat, light intensity and noise. An aesthetic concept that improves the visual quality of the building but still provides comfort for users, in harmony with the environment and the concept of efficiency both in economic value and maintenance.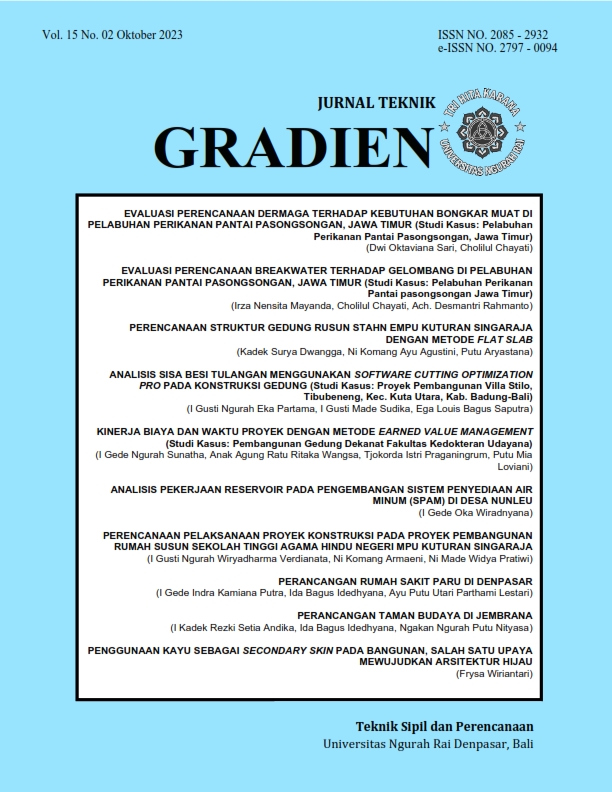 How to Cite

Wiriantari, F. (2023). PENGGUNAAN KAYU SEBAGAI SECONDARY SKIN PADA BANGUNAN, SALAH SATU UPAYA MEWUJUDKAN ARSITEKTUR HIJAU. Jurnal Teknik Gradien, 15(02), 91-98. https://doi.org/10.47329/teknik_gradien.v15i02.1100

Abstract viewed = 42 times PDF downloaded = 22 times