OPTIMALISASI PENJUALAN ASET PROPERTI LELANG EKSEKUSI HAK TANGGUNGAN PADA BALAI LELANG MANDIRI PRASARANA DENPASAR PASCA PANDEMI COVID-19
Lis Julianti

Universitas Mahasaraswati Denpasar
Keywords:
Property Assets, Execution Auction, Mortgage Rights, Independent Auction Center
Abstract
One of the sales of objects that can be carried out through the auction mechanism is property assets that become collateral for mortgages which later in the auction will be referred to as mortgage execution auctions. During the Covid-19 pandemic, there was a decline in the sale of auction property assets. The purpose of this study is to find an effort to optimize the sale of property assets in the auction of mortgage executions as an effort to improve the investment climate in Indonesia and provide income for the country. This research is a normative juridical research using an approach based on secondary legal materials. This study uses the approaches: statute approach, and conceptual approach. The technique of tracing legal materials uses a document study technique (library research), and the analysis of the study uses qualitative analysis. The results of this study indicate that the efforts and strategies taken to optimize the sale of auction property assets are by educating the public and socializing through brochures in both mass media and social media as well as joint marketing with banks. 
References
Hermansah. (2005). Hukum Perbankan Nasional Indonesia. Jakarta : Kencana Prenada Media Group, h.71.
HS. Salim. (2004). Perkembangan Hukum Jaminan di Indonesia. Jakarta : PT. Rajagrafindo Persada, h.23.
Sutojo. Siswanto (1997). Menangani Kredit Bermasalah Konsep Tenis dan Kasus. Jakarta : Pustaka Binaman Pressindo, h. 170.
Purnamasari. Irma Devita, (2014). Kiat-Kiat Cerdas, Mudah, dan Bijak Memahami Masalah Hukum Jaminan Perbankan. Bandung : Kaifa, h. 61-63.

JURNAL
Alfitri. (2016). Ideologi Welfare State dalam dasar Negara Indonesia : Analisis Putusan Mahkamah Konstitusi Terkait Sistem Jaminan Sosial Nasional. Jurnal Konstitusi, 9(3), 449-472, h. 449.
Wijaya, Rusmin dan Achmad .J.S.A. (2021). Optimalisasi Asas Kemanfaatan Hasil Lelang Eksekusi Dalam Persepektif Hukum Investasi. Jurnal Living Law 13(1), 46-56, h.51.

PERATURAN PERUNDANG-UNDANGAN

Undang-Undang Negara Republik Indonesia Nomor 4 Tahun 1996 tentang Hak Tanggungan.

Undang-Undang Negara Republik Indonesia Nomor 25 Tahun 2007 tentang Penanaman Modal.

Peraturan Menteri Keuangan Nomor 27/PMK.06/2016 tentang Pelaksanaan Lelang

Peraturan Direktur Jenderal Kekayaan Negara Nomor 03/KN/2020 tentang Panduan Pemberian Layanan Lelang pada KPKNL Saat Keadaan Darurat Bencana Wabah Penyakit Akibat Corona Virus Disease 2019 (Covid-19).
INTERNET

Kementerian Keuangan Republik Indonesia, 2021. Strategi Pelayanan Lelang Pasca Pandemi Covid-19, https://www.djkn.kemenkeu.go.id/artikel/baca/13129/Strategi-Pelayanan-Lelang-Masa-Pandemi-Covid-19.html diakes 10 Juni 2022 pukul 20.10 wita.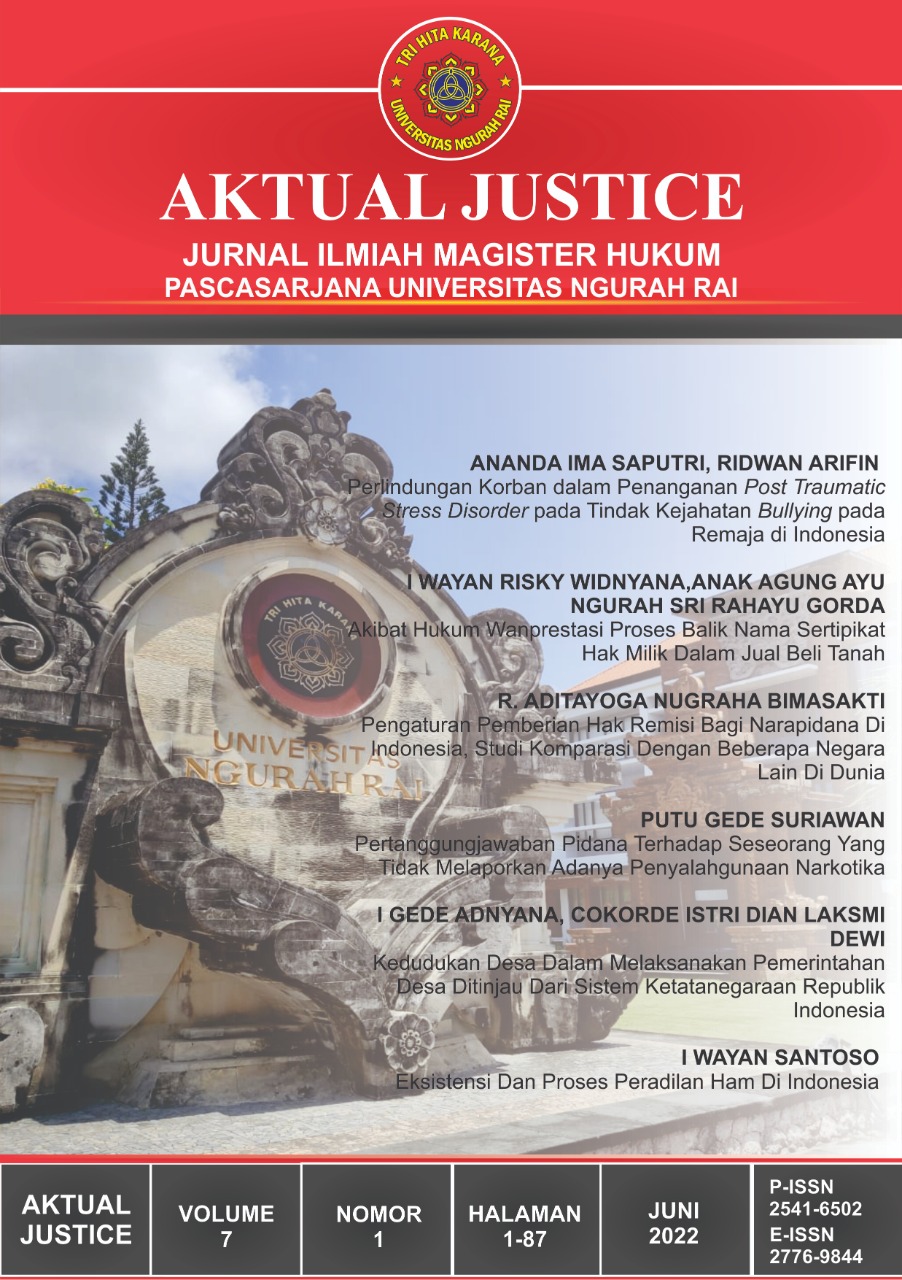 Copyright (c) 2022 Lis Julianti
This work is licensed under a Creative Commons Attribution-NonCommercial 4.0 International License.
Authors whose manuscript is published will approve the following provisions:
The right to publication of all journal material published on the AKTUAL JUSTICE journal website is held by the editorial board with the author's knowledge (moral rights remain the property of the author).

The formal legal provisions for access to digital articles of this electronic journal are subject to the terms of the Creative Commons Attribution-ShareAlike (CC BY-SA) license, which means Jurnal of AKTUAL JUSTICE reserves the right to store, modify the format, administer in the database, maintain and publish articles without requesting permission from the Author as long as it keeps the Author's name as the owner of Copyright.

Printed and electronically published manuscripts are open access for educational, research, and library purposes. In addition to these objectives, the editorial board shall not be liable for violations of copyright law.

Abstract viewed = 64 times

downloaded = 36 times