Perlindungan Korban dalam Penanganan Post Traumatic Stress Disorder pada Tindak Kejahatan Bullying pada Remaja di Indonesia
Ananda Ima Saputri

Universitas Negeri Semarang

Ridwan Arifin

Universitas Negeri Semarang
Keywords:
Victim Protection, Bullying, Post Traumatic Stress Disorder, Teenagers
Abstract
This writing aims to determine the impact of bullying crime from the point of view of victims of bullying who get stressed post-traumatic stress disorder so that victims need to get protection from the incident. In the 1945 Constitution article 28B (paragraph 2) it has been explained that: "Every child has the right to survival, growth and development, and is entitled to protection from violence and discrimination". But in fact, this crime of bullying is increasingly widespread by not seeing the opponent as material for consideration of reducing the effects of the crime he committed. Bullying itself has been happening for a long time and seems to be part of the culture of community social behavior both at school and in the environment at home. Victims also generally have feelings of being helpless, afraid, and threatened because they experience forms of intimidation such as threatening, spreading rumors, taunting, cursing, and alienating someone from a group whether done directly or through technology is an example of bullying. The act of bullying is considered only part of the way children play, even though the impact of this action greatly affects the psychological health of its victims. In addition, Bullying has a negative impact on mental health and well-being of adolescents so that parents, school teachers, and the government should pay more attention to victims of bullying and do not just look at the nature of the crime. Protection of victims of bullying needs to be given more attention, improved, and taught early on to children whose development is in the process of becoming adults so that the state can minimize bullying that occurs wherever someone lives. And victims of the impact of bullying can be reduced every year.
References
CNN Indonesia. (2020). "Polisi Selidiki Dugaan Motif Bullying Bunuh Diri Siswa SMP". CNN Indonesia Online, https://www.cnnindonesia.com/nasional/20200121121751-20-467245/polisi-selidiki-dugaan-motif-bullying-bunuh-diri-siswi-smp

Dwipayanti, I. A. S. dan Indrawati, K. R. 2014. Hubungan Antara Tindakan Bullying dengan Prestasi Belajar Anak Korban Bullying pada Tingkat Sekolah Dasar. Jurnal Psikologi Udayana, 1(2), 251–260.

Evi Sulistyanti. 2017. Layanan konseling art therapy untuk mengatasi trauma anak korban bullying di Sekolah. Proceedings International Conference (2017), pp. 24-30 1st ASEAN School Counselor Conference on Innovation and Creativity in Counseling. Universitas Negeri Semarang.

Flannery, R. B. (1999). Psychological Trauma and Post Traumatic Stress Disorder International Journal of Emergency Mental Health, 1(2).

Gunadha, R., & Aditya, R. (2020). "Remaja 17 Tahun Bunuh Diri karena Di-bully, Pelakunya Datang ke Pemakaman", SUARA Online, https://www.suara.com/news/2020/03/06/150307/remaja-17-tahun-bunuh-diri-karena-di-bully-pelakunya-datang-ke-pemakaman

Indonesia. (2014). Undang-Undang Nomor 35 Tahun 2014 tentang Perubahan atas Undang-Undang Nomor 23 Tahun 2002 Tentang Perlindungan Anak.

Khasanah, I. (2013). Program "SAHABAT" Sebagai Salah Satu Program Alternatif Penanganan Bullying Pada Anak Usia Dini. Jurnal Pendidikan Anak, 2(2).

KPAI. (2020). "Sejumlah Kasus Bullying Sudah Warnai Catatan Masalah Anak di Awal 2020, Begini Kata Komisioner KPAI". KPAI, https://www.kpai.go.id/berita/sejumlah-kasus-bullying-sudah-warnai-catatan-masalah-anak-di-awal-2020-begini-kata-komisioner-kpai

Kusuma, K. (2014). Perilaku School Bullying Pada Siswa Sekolah Dasar Negeri Delegan 2, Dinginan, Sumberharjo, Prambanan, Sleman, Yogyakarta. Skripsi. Universitas Negeri Yogyakarta.

Laurensius, S., Situngkir, D., Putri, R., & Fauzi, R. (2018). Cyber Bullying Against Children In Indonesia. In International Conference on Social Sciences, Humanities, Economics and Law. European Alliance for Innovation (EAI).

Lee, A. (2010). How to Grow Great Kids. Oxford: Oxford University Press.

Machioldi, C. (2003). Handbook of Art Therapy. London: Guilford Press.

Mirza, T. A., & Sambas, N. (2020). Legal Protection for Children Victim of Bullying Which Causing Mental Health Disorder. SOEPRA, 6(2), 200-219.

Muhammad, M. (2009). Aspek Perlindungan Anak dalam Tindak Kekerasan (Bullying) terhadap Siswa Korban Kekerasan di Sekolah (Studi Kasus di Smk Kabupaten Banyumas). Jurnal Dinamika Hukum, 9(3), 268-274.

Mujiyati, M. (2015). Peningkatan Self Esteem Siswa Korban Bullying Melalui Teknik Assertive Training. Jurnal Fokus Konseling, 1(1).

Praningtyas, D. (2010). Hubungan antara Bullying dan School Well-Being pada Siswa SMA di Jakarta. Jakarta: Universitas Indonesia

Prasetyo, A. B. E. (2011). Bullying di sekolah dan dampaknya bagi masa depan anak. El-Tarbawi Jurnal Pendidikan Islam, 4(1), 19-26.

Putri, D. A. W. M., & Konseling, J. B. (2017). Media Anti Bullying: Pembimbingan Anak Usia Dini Pada Taman Kanak-Kanak Di Kota Singaraja. Jurnal Widya Laksana, 5(1).

Raharjo, S. (2000). Ilmu Hukum, Bandung: Citra Aditya Bakti.

Saputro, A. (2013). Hubungan Paparan Kekerasan dengan Perilaku Bullying di Sekolah Dasar. Skripsi, Universitas Muhammadiyah, Surakarta

Selye, H. (1950). Stress and the General Adaptation Syndrome. British Medical Journal, 1(4667), 1383-1392

Smet, B. (1994). Psikologi Kesehatan. Jakarta: Gramedia Widia Sarana Indonesia.

Smith, J. D., Cousins, J. B., & Stewart, R. (2005). Antibullying Interventions in Schools: Ingredients of Effective Programs. Canadian Journal of Education, 28(4), 739-762.

Taliaferro, L. A., Doty, J. L., Gower, A. L., Querna, K., & Rovito, M. J. (2020). Profiles of risk and protection for violence and bullying perpetration among adolescent boys. Journal of School Health, 90(3), 212-223.

Tsitsika, A. K., Barlou, E., Andrie, E., Dimitropoulou, C., Tzavela, E.C., Janikian, M., Tsolia, M. (2014). Bullying Behaviors in Children and Adolescents. Frontiers In Public Health, 2(7).

Wardhani, Y. F., & Lestari, W. (2007). Gangguan stres pasca trauma pada korban pelecehan seksual dan perkosaan. Surabaya: Pusat Penelitian dan Pengembangan Sistim dan Kebijakan Kesehatan.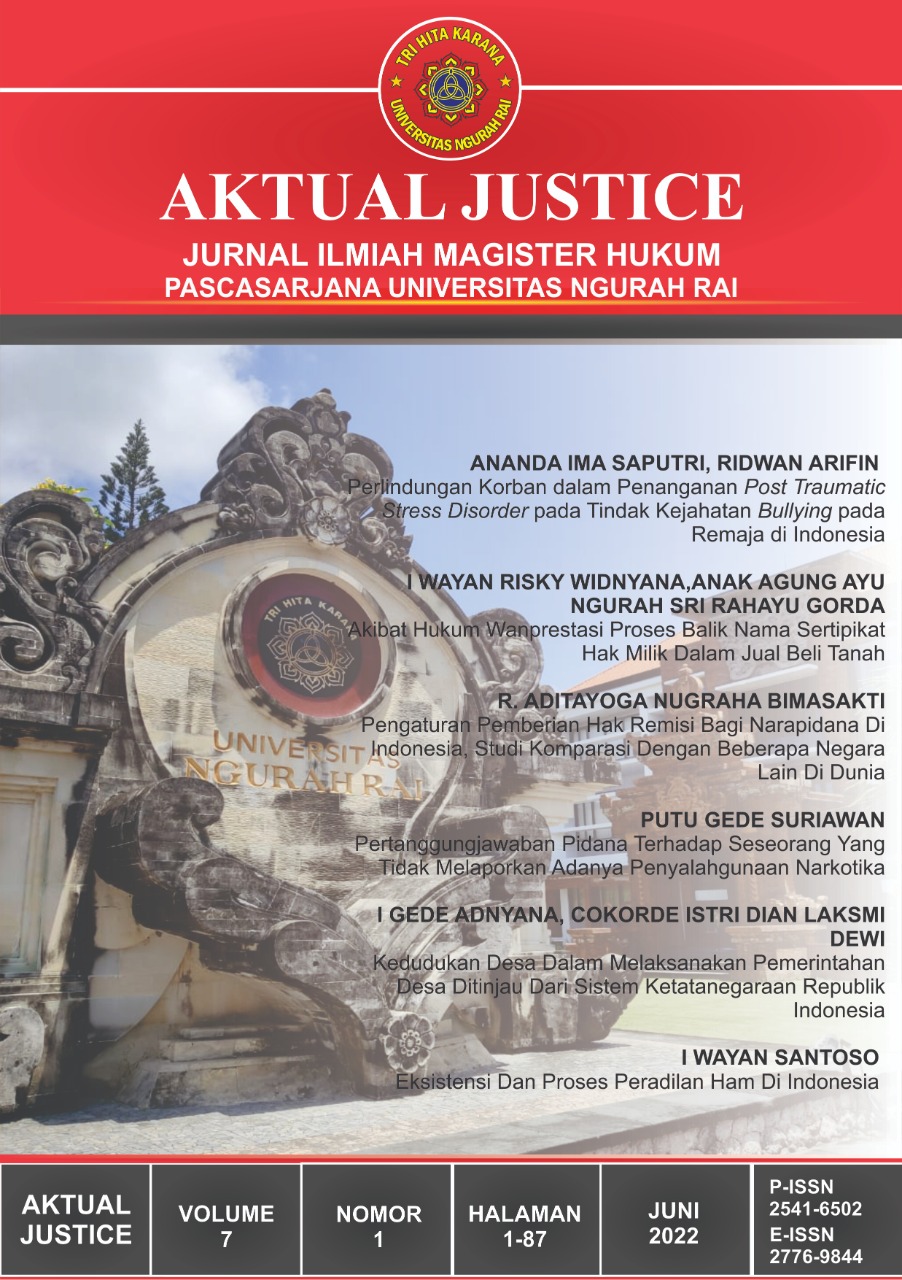 Copyright (c) 2022 Ananda Ima Saputri, Ridwan Arifin
This work is licensed under a Creative Commons Attribution-NonCommercial 4.0 International License.
Authors whose manuscript is published will approve the following provisions:
The right to publication of all journal material published on the AKTUAL JUSTICE journal website is held by the editorial board with the author's knowledge (moral rights remain the property of the author).

The formal legal provisions for access to digital articles of this electronic journal are subject to the terms of the Creative Commons Attribution-ShareAlike (CC BY-SA) license, which means Jurnal of AKTUAL JUSTICE reserves the right to store, modify the format, administer in the database, maintain and publish articles without requesting permission from the Author as long as it keeps the Author's name as the owner of Copyright.

Printed and electronically published manuscripts are open access for educational, research, and library purposes. In addition to these objectives, the editorial board shall not be liable for violations of copyright law.
Abstract viewed = 887 times PERLINDUNGAN KORBAN DALAM PENANGANAN POST TRAUMATIC STRESS DISORDER PADA TINDAK KEJAHATAN BULLYING PADA REMAJA DI INDONESIA downloaded = 755 times