EKSISTENSI DAN PROSES PERADILAN HAM DI INDONESIA
I Wayan Santoso

Universitas Ngurah Rai Denpasar
Keywords:
Human Rights, Existence, Justice
Abstract
The development of the influence of human rights in its journey has affected various countries, including Indonesia. The end of the New Order government, which was very repressive after 32 years in power, has raised awareness of the importance of respecting human rights. Demands for justice against past human rights violators are increasing, while human rights violations continue to take place in various forms, patterns and different actors. Human rights issues are often used by a group of people for their political and economic interests, while officials are reluctant to act for fear of being accused of violating human rights.
The understanding of human rights in Indonesia as values, concepts and norms that live and develop in society can be traced through a study of years, and before the human rights court was formed, cases of gross human rights violations were tried by an authorized general court. The establishment of legal regulations regarding gross human rights violations and the establishment of a human rights court is necessary because the applicable legal regulations, most of which are rules from the Dutch colonial era, such as the Criminal Code, do not regulate gross human rights violations as extraordinary crimes. but only regulates conventional crimes, such as murder as regulated in Article 338 of the Criminal Code, persecution as regulated in Article 351 of the Criminal Code.
Kidnapping as regulated in Article 333 of the Criminal Code, rape as regulated in Article 285 of the Criminal Code, etc. So in this case, of course, there is a difference between the prosecution process in criminal law and the prosecution process in cases of gross human rights violations. In order to provide protection, certainty, justice and a feeling of security to individuals or the community, it is necessary to establish a Human Rights Court and the rule of law. In Indonesia, the existence of Law Number 39 of 1999 concerning Human Rights (UU HAM) and Law Number 26 of 2000 concerning the Human Rights Court (Law on the Human Rights Court) is expected to protect human rights, both individuals and communities and become the basis for enforcing , legal certainty, justice and a feeling of security for individuals and the community against serious human rights violations
References
Effendy. M.A. (2004). Perkembangan Dimensi HAM. Jakarta. Ghalia Indonesia.

Gunarto.M.P. (2007). Perlindungan Hak Asasi Manusia Di Indonesia Dalam Dinamika Global. Jurnal Mimbar Hukum. Vol 19 No.(2) Juni 2007. Yogyakarta:Fakultas Hukum Universitas Gadjah Mada.

http://www.edukasippkn.com/2015/09/proses-penanganan-pelanggaran-ham_22.html. diakses pada 10 februari 2017

Indrayana.D. (2004). Negara Hukum Indonesia Pasca Soeharto Transisi Menuju Demokrasi VS Korupsi. Jurnal Konstitusi. Vol. 1. No. 1, Juli 2004. Jakarta. Mahkamah Konstitusi Republik Indonesia..

Muladi. Peradilan HAM punya banyak kekurangan, https://m.tempo.co/read /news /2004 /01 /20 /05538678/muladi-peradilan-ham-punya-banyak-kelemahan, diakses pada 10 februari 2017

Nurhasan. (2005). Pasang Surut Penegakan Demokrasi dan HAM di Indonesia. Jurnal Ilmu Hukum Litigasi. Vol.6 No.2 Juni 2005. Bandung. Fakultas Hukum Universitas Pasundan.

Prakoso. D. & Nirwanto. D.A. (1984). Euthanasia : Hak Asasi Manusia dan Hukum Pidana. Jakarta. Ghalia Indonesia

Qamar. N. (2016). Hak Asasi Manusia Dalam Negara Hukum Demokrasi (Human Rights in Democratiche Rechtsstaat). Jakarta.Sinar Grafika.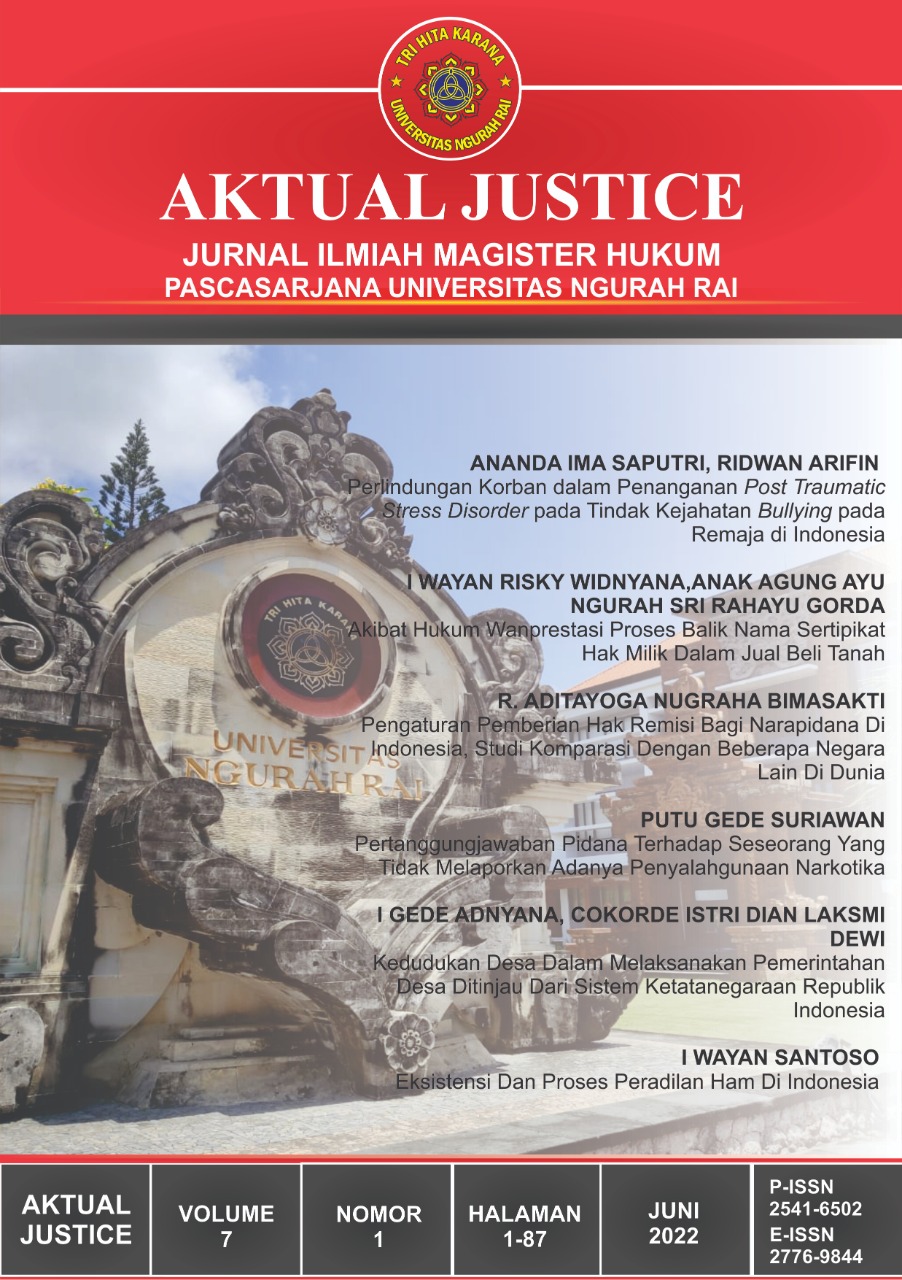 Copyright (c) 2022 I Wayan Santoso
This work is licensed under a Creative Commons Attribution-NonCommercial 4.0 International License.
Authors whose manuscript is published will approve the following provisions:
The right to publication of all journal material published on the AKTUAL JUSTICE journal website is held by the editorial board with the author's knowledge (moral rights remain the property of the author).

The formal legal provisions for access to digital articles of this electronic journal are subject to the terms of the Creative Commons Attribution-ShareAlike (CC BY-SA) license, which means Jurnal of AKTUAL JUSTICE reserves the right to store, modify the format, administer in the database, maintain and publish articles without requesting permission from the Author as long as it keeps the Author's name as the owner of Copyright.

Printed and electronically published manuscripts are open access for educational, research, and library purposes. In addition to these objectives, the editorial board shall not be liable for violations of copyright law.
Abstract viewed = 205 times EKSISTENSI DAN PROSES PERADILAN HAM DI INDONESIA downloaded = 158 times