Pembagian Harta Bersama Pasca Perceraian Terhadap Kontribusi Isteri Sebagai Pencari Nafkah (Studi Komparasi di Australia, Malaysia dan Jepang)
Wiwin Sutini

Pengadilan Agama Klungkung

Putu Eka Trisna Dewi

Universitas Ngurah Rai
Keywords:
Judge's Consideration, Conjugal property, Contribution, Wife, Bread winner
Abstract
Conjugal Property (Matrimonial Property) is a property that gained during the marriage beyond gift or inheritance, or in other words is a property and income generated by both spouse during the marriage. In accordance with the Indonesian 1974 Marriage Law, the rules for conjugal property disseverance is ½ regardless of who has a greater contribution in obtaining it. But gradualluy, it didn't fulfill the sense of justice for a wife who has a dual role, provide the household necessities and manage the household affairs the best she can. The research method used in this research is a normative research type by using a literature study and using a comparative study approach. So, the judges in Indonesia have consider the contribution of husband and wife in obtaining conjugal property before make a verdict (a decision made after a lot of considering). The proportional contribution in conjugal property based on each role can be considered as a form of fulfilling the principle of justice for a   wife who plays a dual role. Hopefully in the future, the proportional of conjugal property not only stagnate in ½, but can be distributed in 1/3: 2/3, 1/4, 3/4, etc
References
1. Buku
Asnawi, M. N. 2020. Hukum Harta Bersama Kajian Perbandingan Hukum, Telaah Norma, Yurisprudensi dan Pembaharuan Hukum, Jakarta: Kencana

Nurdin, A. F. 2009, Wanita Islam dan Transformasi Sosial Keagamaan (Studi tentang Relevansi Perubahan Pencaharian Nafkah di Pedesaan). cet. ke-1, Yogyakarta: Gama Media

Satrio, J. 1991. Hukum Harta Perkawinan. Bandung: PT Citra Aditya Bakti

Shodiqin, A. Nafkah dalam Hadis" dalam Membina Keluarga Mawaddah wa
Rahmah dalam Bingkai Sunah Nabi, ed. Marhumah dan M. Alfatih Suryadilaga, cet. ke-1 (diterbitkan atas kerjasama Pusat Studi Wanita (PSW) IAIN Sunan Kalijaga Yogyakarta dengan The Ford Foundation Jakarta

2. Jurnal
Djuniarti Evi. 2017. Hukum Harta Bersama Ditinjau dari Perspektif
Undang- Undang dan KUH Perdata. Jurnal Penelitian Hukum De Jure. Akreditasi LIPI: No:740/AU/P2MI-LIPI/04/2016

Ibrahim, N. dan Abdul, N. 2017. Division Of Matrimonial Property In Malaysia: The Legal Historical Perspective, SEJARAH: Journal of the Department of History, Vol. 15, No. 15

Mikiko Otani, 2019, Masami Kittaka, Masami Kittaka. "Family Law in
Japan: Overvieu", Practical Law Country Q&A w-009-5907

3. Peraturan Perundang- undangan dan Kamus
Kitab Undang-Undang Hukum Perdata

Undang-Undang Nomor 1 Tahun 1974 Tentang Perkawinan

Kompilasi Hukum Islam

Malaysia Law Reform (Marriage and Divorce Act) 1976

Family Law Act 1975

The Civil Code Japan 1896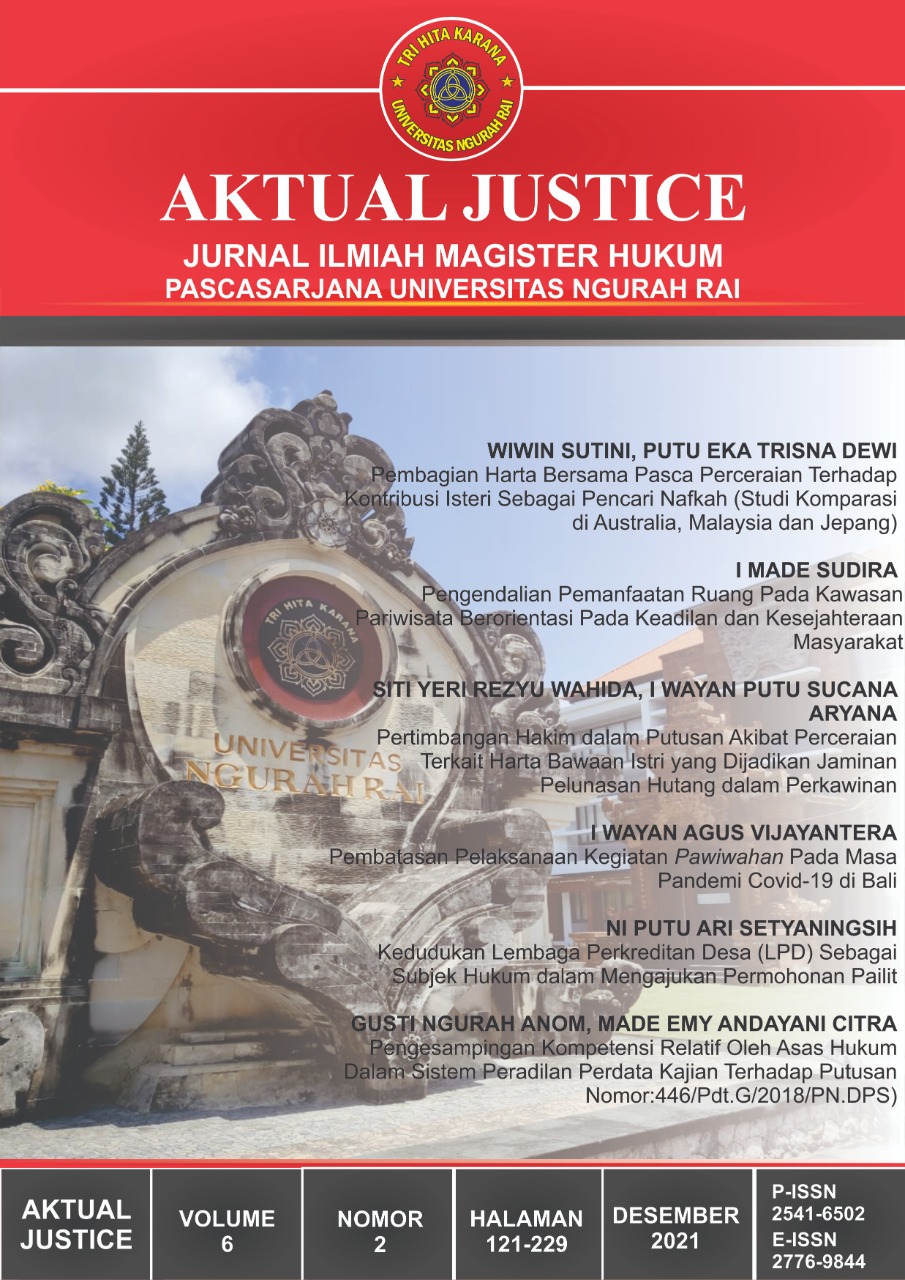 Copyright (c) 2021 Wiwin Sutini, Putu Eka Trisna Dewi
This work is licensed under a Creative Commons Attribution-NonCommercial 4.0 International License.
Authors whose manuscript is published will approve the following provisions:
The right to publication of all journal material published on the AKTUAL JUSTICE journal website is held by the editorial board with the author's knowledge (moral rights remain the property of the author).

The formal legal provisions for access to digital articles of this electronic journal are subject to the terms of the Creative Commons Attribution-ShareAlike (CC BY-SA) license, which means Jurnal of AKTUAL JUSTICE reserves the right to store, modify the format, administer in the database, maintain and publish articles without requesting permission from the Author as long as it keeps the Author's name as the owner of Copyright.

Printed and electronically published manuscripts are open access for educational, research, and library purposes. In addition to these objectives, the editorial board shall not be liable for violations of copyright law.
Abstract viewed = 343 times Pembagian Harta Bersama Pasca Perceraian Terhadap Kontribusi Isteri Sebagai Pencari Nafkah (Studi Komparasi di Australia, Malaysia dan Jepang) downloaded = 370 times