URGENSI KARTU DANA OTONOMI KHUSUS BAGI ORANG ASLI PAPUA (TINJAUAN DESENTRALISASI ASIMETRIS DI INDONESIA)
Ni Luh Putu Geney Sri Kusuma Dewi

Universitas Ngurah Rai
Keywords:
Decentralization, Asymmetric, Special Autonomy
Abstract
Decentralization is one of the political choices in order to ensure the implementation of government affairs in the regions. History has noted that Indonesia has attempted (still) an ideal formula in the administration of local government, starting from the implementation of symmetrical or asymmetrical decentralization. This is not an easy matter considering the diversity that exists in each region, so a special method is needed to be able to fulfill the wishes of each region proportionally. The decentralization that Indonesia needs does not seem to be just ordinary decentralization, empirically Indonesia has actually implemented what is called asymmetric decentralization or decentralization that is not the same/not uniform for each region. The Papua region is an example of the implementation of asymmetric decentralization, but the problem is that the special labeling of the region reflects an asymmetrical framework, namely a serious effort designed to accommodate regional needs by considering all aspects based on regional needs. This means that in granting asymmetric decentralization to a region, it does not mean that it only fulfills sporadic needs based on bad experiences, namely the failure to carry out symmetrical decentralization as in other regions. Therefore, the author considers it important to analyze more deeply the special labeling for Papua has been given in accordance with the asymmetric decentralization framework or only meets sporadic demands to anticipate the issue of disintegration.
References
1. Buku

Agung Djojosoekart.et.al, 2008, Kinerja Otonomi Khusus Papua, Jakarta, Kemitraan.

Danuredjo, S.L.S 1967, Otonomi di Indonesia dalam Rangka Kedaulatan, Jakarta, Alras.

Djojosoekarto, Agung , et.al, 2008, Kebijakan Otonomi Khusus Papua, Kemitraan bagi Pembaruan Tata Pemerintahan di Indonesia.

Hakim, Lukman, 2012, Filosofi Kewenangan Organ dan Lembaga Daerah, Malang, Setara Press.

Huda, Ni'Mathul 2013, Daerah Istimewa Yogyakarta Dalam Perdebatan Konstitusi dan Perundang-Undangan Di Indonesia, Bandung , Nusa Media.

___________. 2014, Desentralisasi Asimetris Dalam NKRI, Nusa Media, Bandung.

Jeddawi, Murtir 2008, Implementasi Kebijakan Otonomi Daerah (Analisis Kewenangan, Kelembagaan Manajemen Kepegawaian dan Peraturan Daerah, Kreasi Total Media, Yogyakarta.

Juanda, 2004, Hukum Pemerintahaan Daerah Pasang Surut Hubungan Kewenangan Antara DPRD dan Kepala Daerah, Alumni, Bandung.

Manan, Bagir 2005, Menyongsong Fajar Otonomi Daerah, Yogyakarta, Pusat Studi Hukum

Marzuki, Peter Mahmud, 2005, Penelitian Hukum, Kencana.

________, 2014, Pengantar Penelitian Hukum, Kencana.

Ramandey. Fritr Bernar, .,et.al, 2005, Profil Otonomi Khusus Papua, Jayapura Papua, Aliansi Jurnalis Independen (AJI) Papua.
Safa'at, Muchamad Ali, 2012 Problem Otonomi Khusus Papua, dalam Ardimanto, dkk. (editors), Oase Gagasan Papua Damai, Imparsial, Jakarta.

Soekanto, Soerjono dan Sri Mamudji, 2010, Penelitian Hukum Normatif Suatu Tinjauan Singkat, Raja Grafindo Persada..

2. Jurnal

Ludia, Ketreda "Efektivitas Pelaksanaan Kebijakan Otonomi Khusus Dalam Rangka Peningkatkan Kesejahteraan Masyarakat Di Distrik jayapura Utara Kota Jayapura", Jurnal Administrasi Publik, Vol. 2, 2013.

Endang, Robert Kritik Terhadap Desentralisasi Asimetris di Indonesia, Jurnal Analisis SCIS, Vol. 40, No. 2, Juni 201.

3. Artikel Internet

Bayu Dardias Kurniadi, Desentralisasi Asimetris Di Indonesia http://bdardias.staff.ugm.ac.id/wp-content/uploads/2008/06/Desentralisasi-Asimetris-di-Indonesia-LAN-Bdg-26112012.pdf, diakses 25 Mei 2021, Pukul: 17.00 Wib.

Tri Widodo WU, 2010, Desentralisasi Asimetris dan/dalam Negara Kesatuan www.samarinda.lan.go.id/jba/index.php/jba/article/download/140/135, diakses Pada Tanggal 25 Mei 2021.

4. Peraturan Perundang-Undangan

Undang-Undang Dasar Tahun 1945

Undang-Undang No. 21 Tahun 2001 Tentang Otonomi Khusus Bagi Papua.

Undang-Undang No. 11 Tahun 2006 Tentang Pemerintahan Aceh

Peraturan Presiden No. 65 Tahun 2011 Tentang Percepatan Pembangunan Papua dan Papua Barat.

Instruksi Presiden No. 5 Tahun 2007 Tentang Percepatan Pembangunan Papua dan Papua Barat.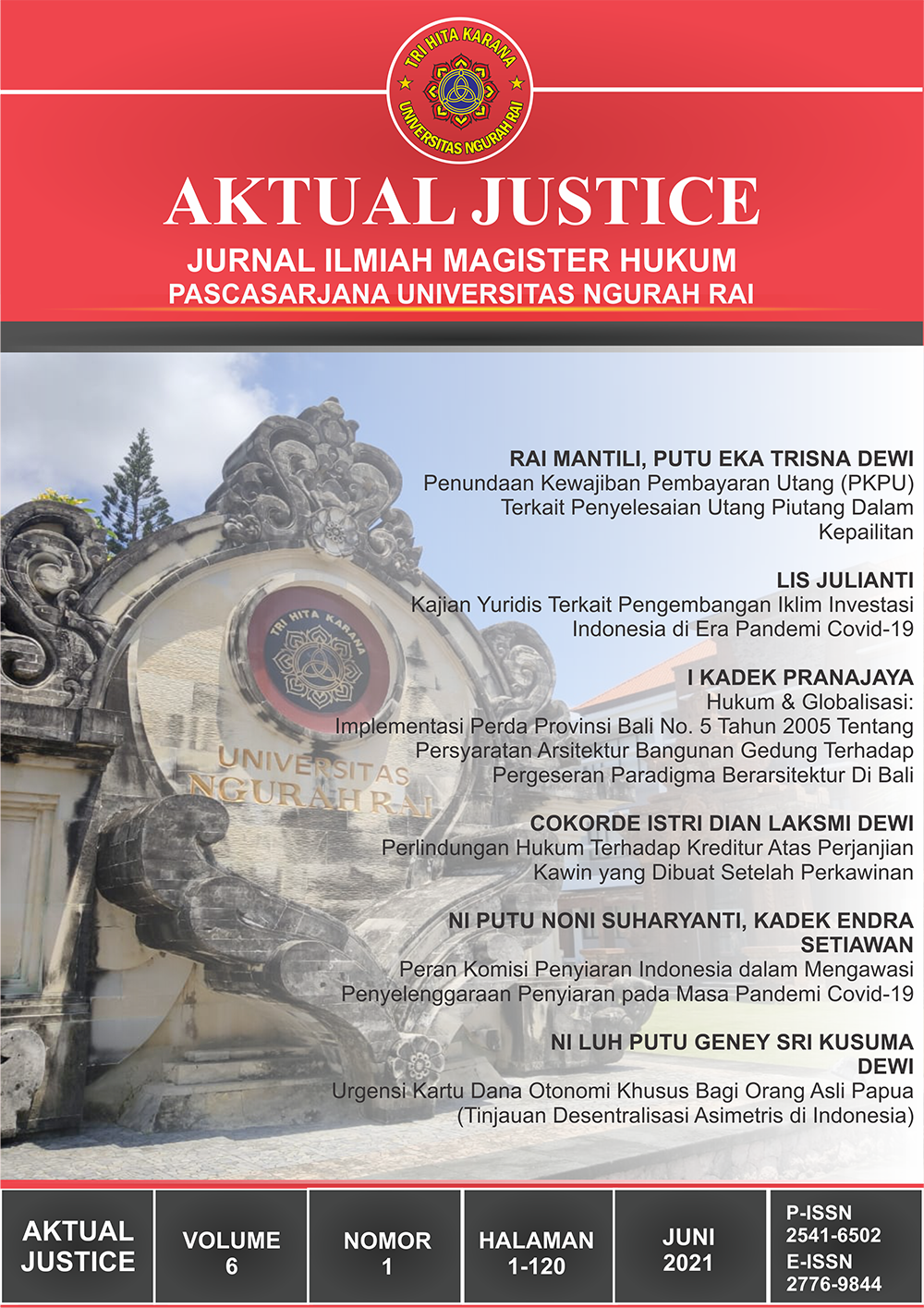 Copyright (c) 2021 Ni Luh Putu Geney Sri Kusuma Dewi
This work is licensed under a Creative Commons Attribution-NonCommercial 4.0 International License.
Authors whose manuscript is published will approve the following provisions:
The right to publication of all journal material published on the AKTUAL JUSTICE journal website is held by the editorial board with the author's knowledge (moral rights remain the property of the author).

The formal legal provisions for access to digital articles of this electronic journal are subject to the terms of the Creative Commons Attribution-ShareAlike (CC BY-SA) license, which means Jurnal of AKTUAL JUSTICE reserves the right to store, modify the format, administer in the database, maintain and publish articles without requesting permission from the Author as long as it keeps the Author's name as the owner of Copyright.

Printed and electronically published manuscripts are open access for educational, research, and library purposes. In addition to these objectives, the editorial board shall not be liable for violations of copyright law.

Abstract viewed = 182 times

downloaded = 123 times