HUKUM & GLOBALISASI: IMPLEMENTASI PERDA PROVINSI BALI NO. 5 TAHUN 2005 TENTANG PERSYARATAN ARSITEKTUR BANGUNAN GEDUNG TERHADAP PERGESERAN PARADIGMA BERARSITEKTUR DI BALI
I Kadek Pranajaya

Dosen Institut Desain dan Bisnis Bali
Keywords:
Law, globalization, Implementation Bali Provincial Regulation No. 5 of 2005, and the architectural paradigm
Abstract
The architectural style of buildings in Bali must be able to display the traditional Balinese architectural style (ATB) that is in harmony, balanced and integrated with the environment based on Balinese culture. Globalization and modernization encourage the creation of new technologies in the building materials industry to be more effective and efficient. Through a sociological juridical approach, it was found that the influence of globalization and modernization caused a shift in the architectural paradigm in Bali. Globalization and modernization have led to an identity crisis and the degradation of ATB towards a modern and minimalist direction as well as disharmony of traditional values ​​as the ancestral heritage of the people in Bali. The architectural paradigm shift in Bali has begun to shift and has deviated from the existing rules. The results of the study indicate that there has been a violation of the provisions on building architecture that have been stipulated through the Bali Provincial Regulation No. 5, 2005. Violations that take place seem to be left unchecked, ignorance or also a lack of public understanding of the norms that have been set. This is caused by the legal structure, legal substance and legal culture not working properly.
References
1. Buku

Amiruddin. 2012. Pengantar Metode Penelitian Hukum, Jakarta: PT. Raja Grafindo Persada.

Esmi Warassih P.. 2005. Pranata Hukum Sebuah Telaah Sosiologis, Semarang: Suryandaru Utama.

----------------------. 2015. Bunga Rampai, Hukum & Globalisasi, Cirebon: In Media

Fauzi, A.M. 2017. Sosiologi Agama. Surabaya: Universitas Negeri Surabaya.

Friedman, L.M. 2009. Sistem Hukum: Perspektif Sosial. (M. Khozim,penerjemah). Bandung: Nusa Media

Giddens, A. 2000. Runaway World: How Globalization is Reshaping Our Lives. London: Profile Books.

Giddens, A. 2014. Konsekuensi-Konsekuensi Modernitas. Yogyakarta: Kreasi Wacana.

Gomudha, I W. 2008. "Rekonstruksi dan Reformasi Nilai-nilai Arsitektur Tradisional Bali (ATB) pada Arsitektur Masa Kini di Bali". Denpasar: Program Studi Arsitektur Universitas Udayana.

Piliang, Y.A. 2003. Post Realitas: Realitas Kebudayaan dalam Era Post-Metafisika. Yogyakarta: Jalasutra.

Soerjono Soekanto. 2005. Pengantar Penelitian Hukum, Jakarta: Penerbit Universitas Indonesia Press.

Topo Santoso, Eva Achjani Zulfa. 2006. Kriminologi, Jakarta: Rajagrafindo Persada.

2. Jurnal Ilmiah

Any Ismayawati, 2011. "Pengaruh Budaya Hukum Terhadap Pembangunan Hukum di Indonesia", Jurnal Pranata Hukum, Vol. 6, No. 1, hal. 60.

Pranajaya, I.K. 2021." Marginalisasi Prinsip-prinsip Arsitektur Tradisional Bali pada Bangunan Hotel, di Kuta Kabupaten Badung" : Disertasi (tidak diterbitkan). Denpasar: Program Doktor Program Studi Ilmu Agama dan Kebudayaan, Program Pascasarjana Universitas Hindu Indonesia.

3. Artikel Internet

kpi.go.id. (2021). Evaluasi Kepatuhan Televisi Atas Protokol Kesehatan Dalam Penyelenggaraan Penyiaran di Masa Pandemi Covid-19: Januari 2021. Available from http://www.kpi.go.id/index.php/id/umum/38-dalam-negeri?detail5=936&detail3=76&start=70. Diakses 10 Mei 2021.

kpi.go.id. (2021). Imbauan dan Evaluasi Muatan Siaran di Masa Pandemi Covid-19. Available at http://www.kpi.go.id/index.php/id/edaran-dan-sanksi/35656-imbauan-dan-evaluasi-muatan-siaran-di-masa-pandemi-covid-19, diakses 14 Mei 2021.

4. Peraturan Perundang-Undangan

Peraturan Daerah Provinsi Bali No. 5, Tahun 2005 tentang Persyaratan Arsitektur Bangunan.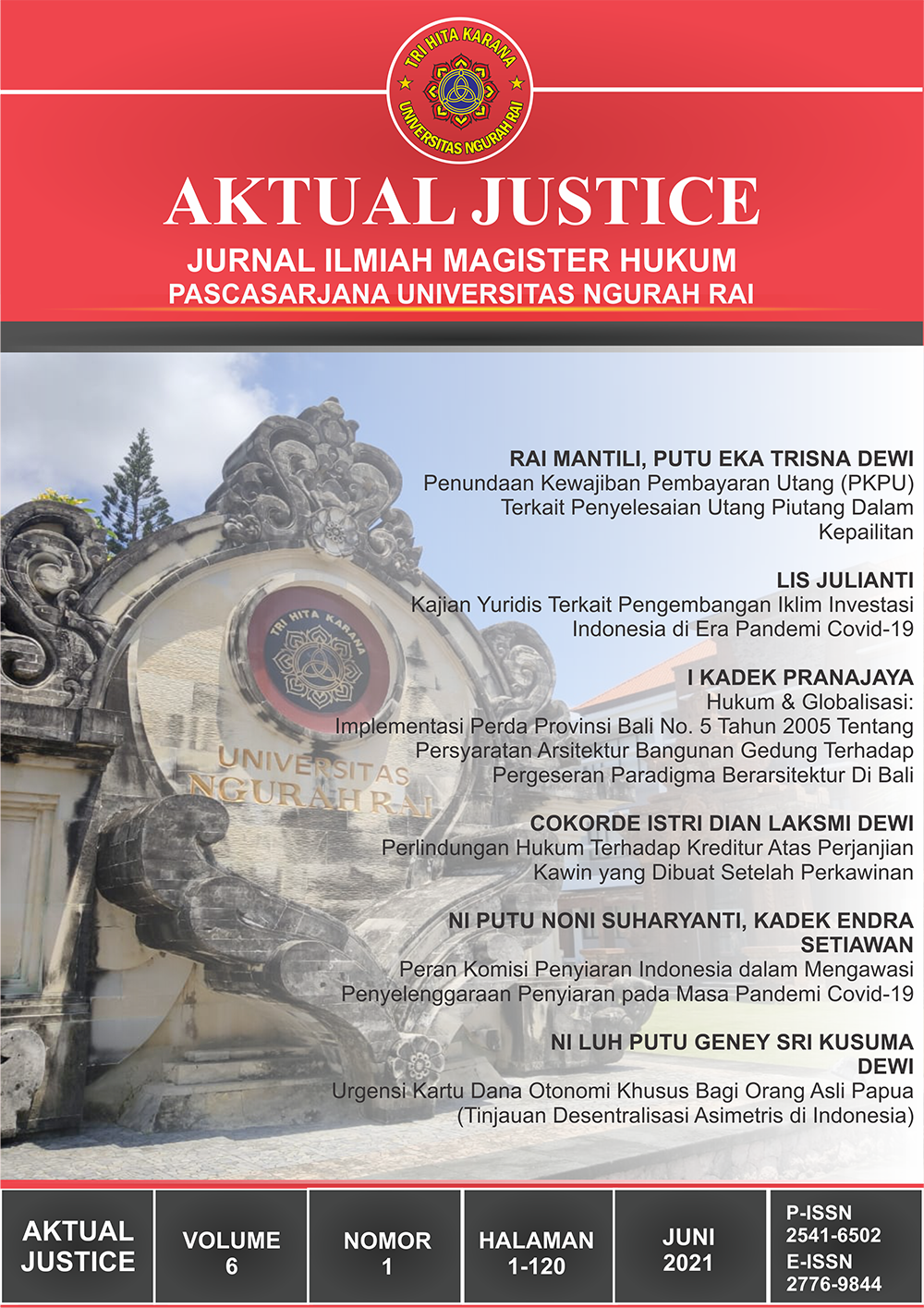 Copyright (c) 2021 I Kadek Pranajaya
This work is licensed under a Creative Commons Attribution-NonCommercial 4.0 International License.
Authors whose manuscript is published will approve the following provisions:
The right to publication of all journal material published on the AKTUAL JUSTICE journal website is held by the editorial board with the author's knowledge (moral rights remain the property of the author).

The formal legal provisions for access to digital articles of this electronic journal are subject to the terms of the Creative Commons Attribution-ShareAlike (CC BY-SA) license, which means Jurnal of AKTUAL JUSTICE reserves the right to store, modify the format, administer in the database, maintain and publish articles without requesting permission from the Author as long as it keeps the Author's name as the owner of Copyright.

Printed and electronically published manuscripts are open access for educational, research, and library purposes. In addition to these objectives, the editorial board shall not be liable for violations of copyright law.

Abstract viewed = 104 times

downloaded = 60 times