PENUNDAAN KEWAJIBAN PEMBAYARAN UTANG (PKPU) TERKAIT PENYELESAIAN UTANG PIUTANG DALAM KEPAILITAN
Rai Mantili

Universitas Padjadjaran

Putu Eka Trisna Dewi

Fakultas Hukum Universitas Ngurah Rai
Keywords:
Utang, Kepailitan, PKPU
Abstract
Kepailitan merupakan suatu proses dimana seorang debitur yang mempunyai kesulitan keuangan untuk membayar utangnya dinyatakan pailit oleh pengadilan, dalam hal ini pengadilan niaga, dikarenakan debitur tersebut tidak dapat membayar utangnya. Namun sebelum diputus pailit oleh pengadilan niaga debitur dapat melakukan upaya perdamaian dengan mengajukan Penundaan Kewajiban Pembayaran Utang (PKPU). Penelitian ini berjenis penelitian yuridis normatif dengan cara melakukan studi kepustakaan dan menelaah data sekunder. Namun tidak semua proses PKPU berjalan sesuai rencana dan berujung pada kepailitan. Jenis penelitian dalam tulisan ini adalah penelitian yuridis empiris. Dalam beberapa kasus kepailitan proses PKPU justru dapat membuka kesempatan bagi para kreditor yang beritikad buruk untuk mempailitkan debitor secara tidak langsung. Dalam PKPU kreditor memiliki kekuasaan yang besar dalam menentukan apakah debitor harus dinyatakan pailit oleh pengadilan
References
1. Buku

Adolf Huala, 2007, Dasar-Dasar Hukum Kontrak Internasional, Refika Aditama, Bandung

Adi Nugroho Susanti, 2018, Hukum Kepailitan Di Indonesia Dalam Teori dan Praktik Serta Penerapan Hukumnya, Prenadamedia Group, Jakarta

Gautama Sudargo, 2008, Komentar Atas Peraturan Kepailitan Baru Untuk Indonesia, Citra Aditya Bakti, Bandung

Sastrawidjaja, H. Man S., 2006, Hukum Kepailitan dan Penundaan Kewajiban Pembayaran Utang, PT. Alumni, Bandung

Suryatno. R. Anto, 2012, Pemanfaatan Penundaan Kewajiban Pembayaran Utang, kencana Prenada media Group, Jakarta

Syahrani Riduan, 2000,Seluk Beluk dan Azas-azas Hukum Perdata, Alumni, Bandung

2.. Jurnal

Putu Eka Trisna Dewi, 2016, Tinjauan Hukum Bisnis:Urgensi Penundaan Kewajiban Pembayaran Utang (PKPU) Dalam Kepailitan, Jurnal Akses, Volume 8 Nomor 1 Juni 2016, Lembaga Penelitian Dan Pengabdian Masyarakat (LPPM) Universitas Ngurah Rai, Denpasar, ISSN No. 2085-4544

3. Peraturan Perundang- undangan
Undang-Undang Nomor 37 Tahun 2004 tentang Kepailitan dan Penundaan Kewajiban Pembayaran Utang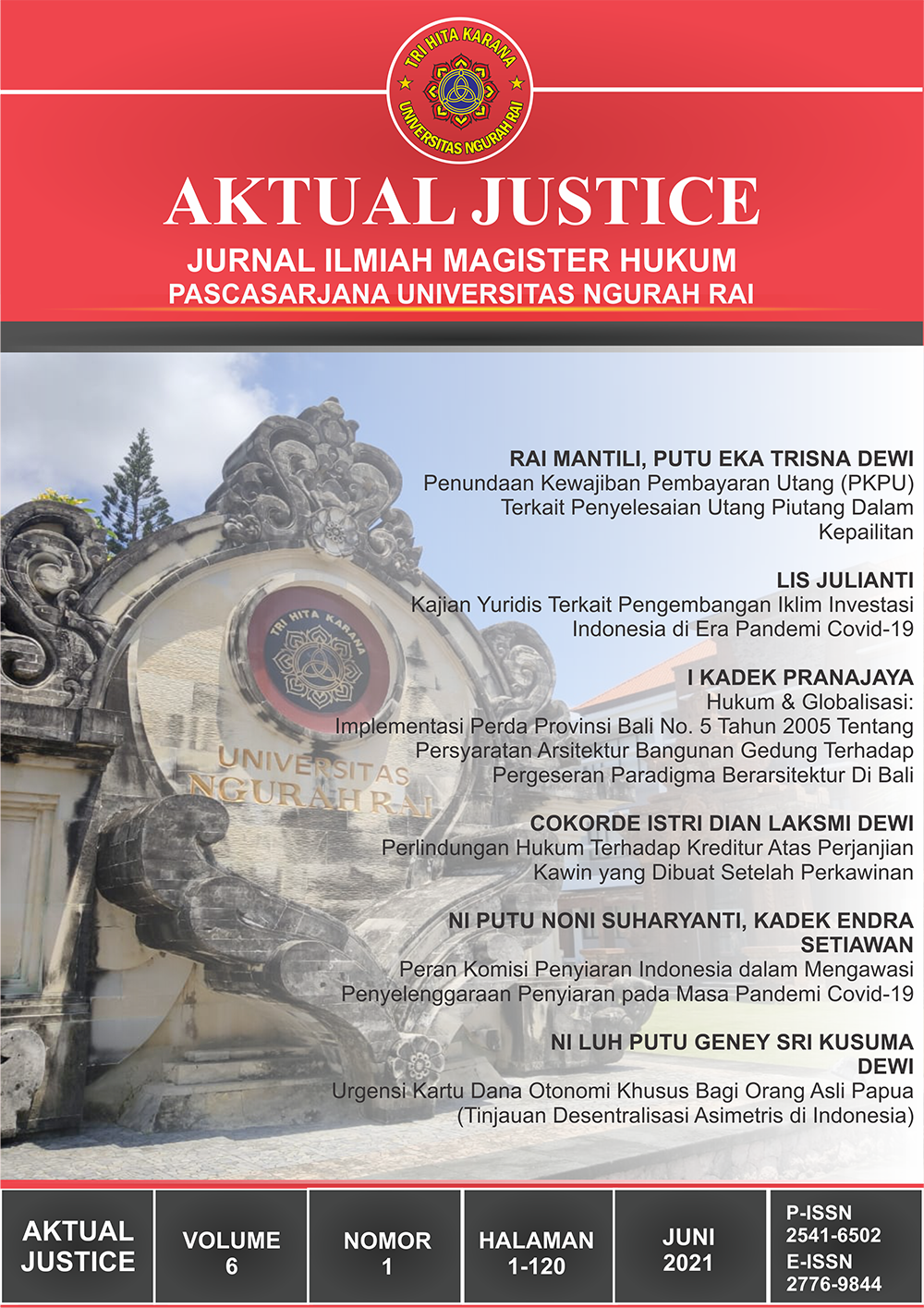 Copyright (c) 2021 Rai Mantili, Putu Eka Trisna Dewi
This work is licensed under a Creative Commons Attribution-NonCommercial 4.0 International License.
Authors whose manuscript is published will approve the following provisions:
The right to publication of all journal material published on the AKTUAL JUSTICE journal website is held by the editorial board with the author's knowledge (moral rights remain the property of the author).

The formal legal provisions for access to digital articles of this electronic journal are subject to the terms of the Creative Commons Attribution-ShareAlike (CC BY-SA) license, which means Jurnal of AKTUAL JUSTICE reserves the right to store, modify the format, administer in the database, maintain and publish articles without requesting permission from the Author as long as it keeps the Author's name as the owner of Copyright.

Printed and electronically published manuscripts are open access for educational, research, and library purposes. In addition to these objectives, the editorial board shall not be liable for violations of copyright law.
Abstract viewed = 3204 times PENUNDAAN KEWAJIBAN PEMBAYARAN UTANG (PKPU) TERKAIT PENYELESAIAN UTANG PIUTANG DALAM KEPAILITAN downloaded = 2119 times