Keadilan Pancasila dalam Persepektif Teori Keadilan Aristoteles
Riky Sembiring

Kantor Hukum Ricky Sembiring dan Rekam
Keywords:
Justice, Pancasila, Aristotle's Theory
Abstract
The basis of Pancasila justice is found in points 2 and 5, which reads the second principle of just and civilized humanity and the fourth principle of justice for all Indonesian people. Fair and civilized human values, that awareness of attitudes and behaviors that are in accordance with moral values ​​in living together on the basis of the demands of conscience by treating things as they should. Humans need to be treated according to their dignity and dignity, as God's creatures who are equal and have the same rights and human obligations. Based on this value, there is absolutely recognition of human rights. The value of social justice for all Indonesians implies both the basis and the goal, namely the achievement of a just and prosperous Indonesian society both physically and mentally. Based on this value, justice is a very basic value that is expected by all nations. The expected Indonesian state is an Indonesian state that is just. Justice is described fundamentally by Aristotle, namely to know about justice and injustice, three main things must be discussed, namely what actions are associated with the term, what justice means, and between the two extreme points whether justice lies.
References
Amalia, E. (2009). Keadilan Distributif dalam Ekonomi Islam. Jakarta: Raja Grafindo Persada

Departemen Pendidikan dan Kebudayaan. (2001). Kamus Besar Bahasa Indonesia. Jakarta: Balai Pustaka

Friedrich, C.J. (2004). Filsafat Hukum Perspektif Historis. Bandung: Nuansa dan Nusamedia

Aristoteles. Nicomachean Ethics, translated by W.D. Ross, http://bocc.ubi.pt/ pag/Aristoteles-nicomachaen.html.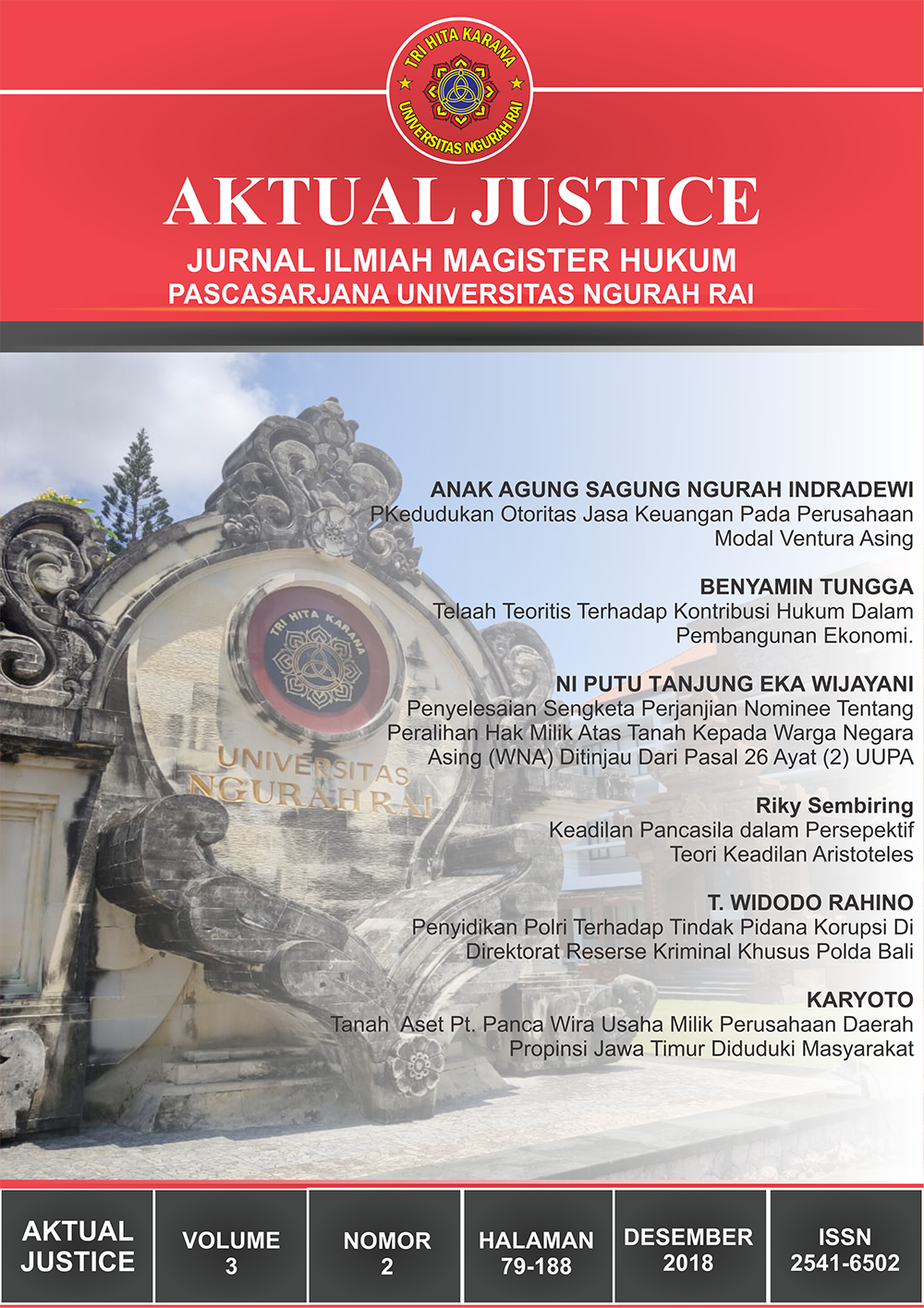 Authors whose manuscript is published will approve the following provisions:
The right to publication of all journal material published on the AKTUAL JUSTICE journal website is held by the editorial board with the author's knowledge (moral rights remain the property of the author).

The formal legal provisions for access to digital articles of this electronic journal are subject to the terms of the Creative Commons Attribution-ShareAlike (CC BY-SA) license, which means Jurnal of AKTUAL JUSTICE reserves the right to store, modify the format, administer in the database, maintain and publish articles without requesting permission from the Author as long as it keeps the Author's name as the owner of Copyright.

Printed and electronically published manuscripts are open access for educational, research, and library purposes. In addition to these objectives, the editorial board shall not be liable for violations of copyright law.
Abstract viewed = 2493 times Keadilan Pancasila dalam Persepektif Teori Keadilan Aristoteles downloaded = 2165 times