PENGARUH UKURAN PERUSAHAAN, PROFITABILITAS, DIVIDEND PAYOUT RATIO DAN FINANCIAL LEVERAGE TERHADAP PRAKTIK PERATAAN LABA PADA PERUSAHAAN MANUFAKTUR
I Gusti Ayu Asri Pramesti

Universitas Mahasaraswati Denpasar

Ni Made Sunarsih

Universitas Mahasaraswati Denpasar
Keywords:
perataan laba, ukuran perusahaan, profitabilitas, dividend payout ratio, financial leverage
Abstract
Laba merupakan salah satu informasi yang sangat penting untuk pengambilan keputusan. Penelitian ini bertujuan untuk menguji pengaruh ukuran perusahaan, profitabilitas, dividend payout ratio dan financial leverage terhadap praktik perataan laba pada perusahaan manufaktur. .Pemilihan sampel dilakukan dengan metode purposive sampling, sehingga terpilih sebanyak 45 perusahaan melalui kriteria yang telah ditentukan. Total sampel selama 3 tahun penelitian yaitu 135 sampel. Indeks Eckel digunakan untuk mengidentifikasi perusahaan yang melakukan perataan laba dan yang tidak melakukan perataan laba. Pengujian hipotesis dilakukan dengan regresi logistik melalui program SPSS.Hasil penelitian ini menunjukan ukuran perusahaan dan profitabilitas berpengaruh negatif terhadap praktik perataan laba. Sedangkan dividend payout ratio dan financial leverage tidak berpengaruh terhadap praktik perataan laba..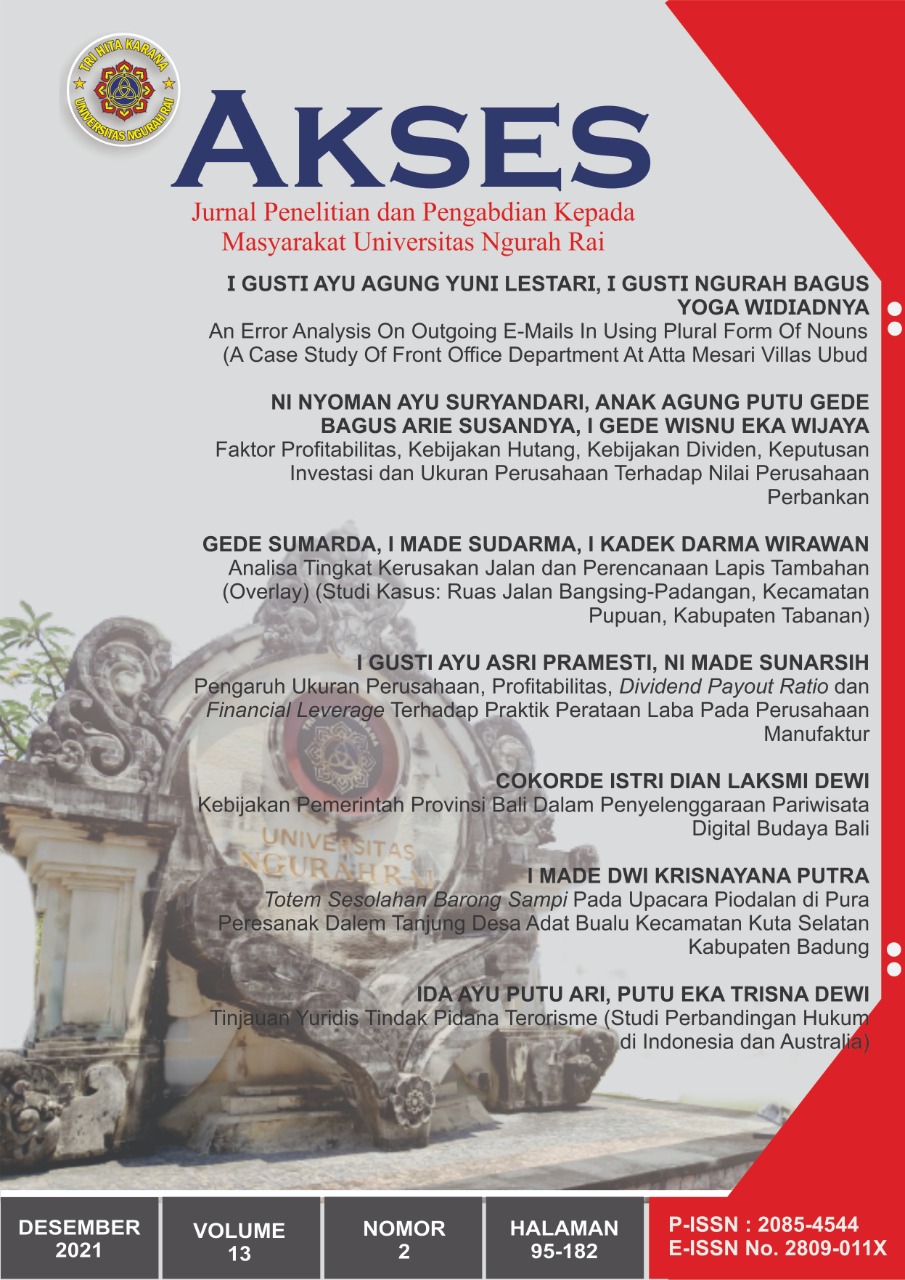 Copyright (c) 2021 I Gusti Ayu Asri Pramesti, Ni Made Sunarsih
This work is licensed under a Creative Commons Attribution-NonCommercial 4.0 International License.
Authors whose manuscript is published will approve the following provisions:
The right to publication of all journal material published on the AKSES journal website is held by the editorial board with the author's knowledge (moral rights remain the property of the author).

The formal legal provisions for access to digital articles of this electronic journal are subject to the terms of the Creative Commons Attribution-ShareAlike (CC BY-SA) license, which means Jurnal of AKSES reserves the right to store, modify the format, administer in the database, maintain and publish articles without requesting permission from the Author as long as it keeps the Author's name as the owner of Copyright.

Printed and electronically published manuscripts are open access for educational, research, and library purposes. In addition to these objectives, the editorial board shall not be liable for violations of copyright law.
Abstract viewed = 125 times PENGARUH UKURAN PERUSAHAAN, PROFITABILITAS, DIVIDEND PAYOUT RATIO DAN FINANCIAL LEVERAGE TERHADAP PRAKTIK PERATAAN LABA PADA PERUSAHAAN MANUFAKTUR downloaded = 91 times