EKSISTENSI TEORI PEMBUKTIAN POSITIEF WETTELIJK BEWIJSTHEORIE DALAM PEMBUKTIAN PERKARA PERDATA
Ni Putu Riyani Kartika Sari

Fakultas Hukum Universitas Ngurah Rai

Ni Luh Putu Geney Sri Kusuma Dewi

Universitas Ngurah Rai
Keywords:
Proof, Civil Case, Civil Procedural Law, Evidence
Abstract
The procedure for examining civil cases, especially relating to the examination of a lawsuit in a court, consists of several stages after the lawsuit has been registered and both parties are appropriately called to attend the court session. The procedure started by: mediation in court based on the regulation on Perma No. 1 of 2016 about Mediation in the Court; if the mediation is unsuccessful, the case is continued untill judges provides the verdict to solve the case.  Regarding the decision of a judge in a case especially in a civil case, the procedure of proof take a very important role in determining whether the claim will be rejected or granted. The parties who get burden of proof is charged to those who postulate or known as the principle of Actori incumbit probatio. If in the process of proving that the plaintiff has succeeded in proving the argument of the claim by being reinforced by evidence, the claim is granted, whereas if the arguments in the claim are not proven then the claim will be rejected.
For this reason the process of proof is very important in the process of examining civil cases because basically in a civil case the Positief wettelijk bewijstheorie theory is where the judge is bound by evidence according to the law. So that this results in the judge making his decision bound to the evidence presented by the parties, if the evidence justifies or negates the arguments in the lawsuit, the judge drops the decision as a proven fact in the process of proof. The judge in making a decision according to the Positief Wettelijk Bewijstheorie does not require the judge's belief in making a decision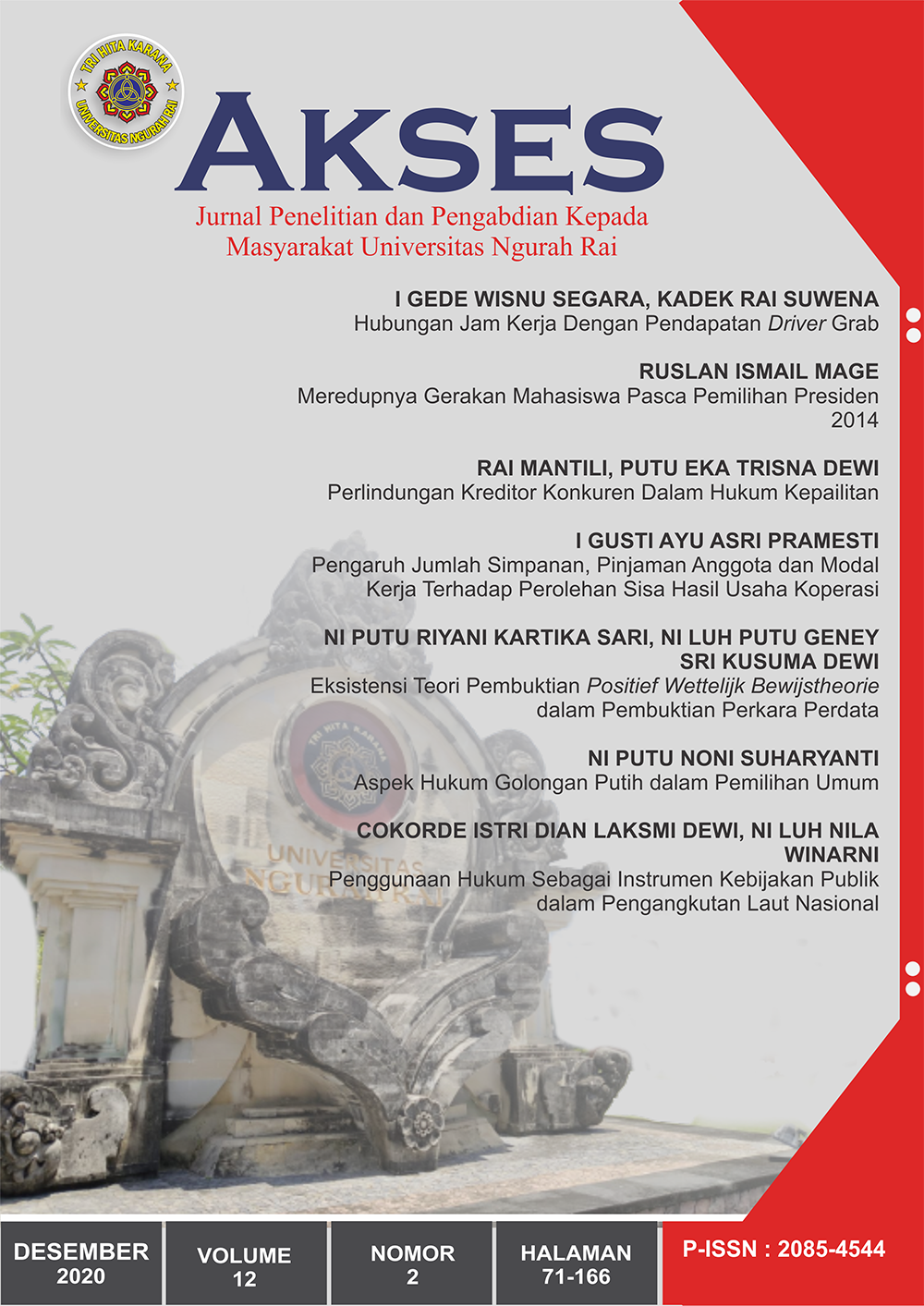 Copyright (c) 2020 Ni Putu Riyani Kartika Sari, Ni Luh Putu Geney Sri Kusuma Dewi
This work is licensed under a Creative Commons Attribution-NonCommercial 4.0 International License.
Authors whose manuscript is published will approve the following provisions:
The right to publication of all journal material published on the AKSES journal website is held by the editorial board with the author's knowledge (moral rights remain the property of the author).

The formal legal provisions for access to digital articles of this electronic journal are subject to the terms of the Creative Commons Attribution-ShareAlike (CC BY-SA) license, which means Jurnal of AKSES reserves the right to store, modify the format, administer in the database, maintain and publish articles without requesting permission from the Author as long as it keeps the Author's name as the owner of Copyright.

Printed and electronically published manuscripts are open access for educational, research, and library purposes. In addition to these objectives, the editorial board shall not be liable for violations of copyright law.
Abstract viewed = 363 times EKSISTENSI TEORI PEMBUKTIAN POSITIEF WETTELIJK BEWIJSTHEORIE DALAM PEMBUKTIAN PERKARA PERDATA downloaded = 395 times